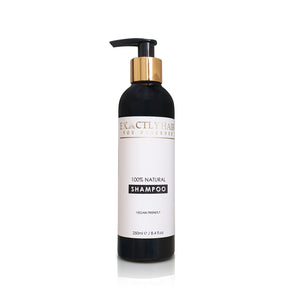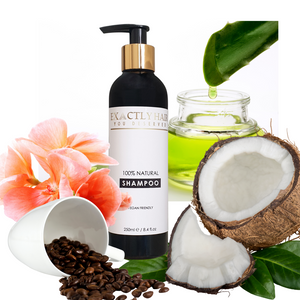 Gently revitalize hair and scalp with this strengthening natural shampoo, which spectacular on your hair, and it will leave it feeling clean, refreshed and smelling gorgeous.
This Exactlyhair's unbelievably high quality, rich luxurious natural shampoo is completely free from Sulphates, SLS, SLES, Parabens and artificial fragrances.
Love your hair enough to go completely natural. This shampoo is made from generous amounts of Lavender oil, Geranium Oil, Aloe Vera juice and only naturally derived ingredients.
Suitable for all hair types
Natural ingredients and vegan friendly
Ingredients:
Aqua (Water) Cocamidopropyl betaine (an organic compound from coconut oil), Sodium Lauryl Sulfoacetate (from coco-nut and SUSTAINABLE palm oils, conforms to Ecocert's natural and organic cosmetic standard and of natural origin) Sodium lauroyl sarcosinate (a salt produced by the breaking down of caffeine) Aloe Barbadensis(pure aloe vera leaf juice), Argania Spinosa Kernel Oil (Argan Oil), lavandulaAngustifolia, (pure aromatherapy lavender oil) Pelargonium graveolens (pure aromatherapy rose geranium Oil) Phenoxyethanol Ethylhexyl Glycerin
Instructions:
Only apply a small amount for an exceptional wash.
Wet your hair, apply Exactlyhair's  natural shampoo, wash to your heart content and rinse. Repeat if necessary.
Use it in conjunction with the Exactlyhair's natural conditioner for the ultimate luxurious clean hair.